Welcome to A-Z Social Work Consultancy and Services
NEW ADVISORY AND SUPPORT BUREAU
We are very please to announce the opening of our new advisory and support be bureau in Luton, where we offer a 'walk in' or 'by appointment' service.
Who we are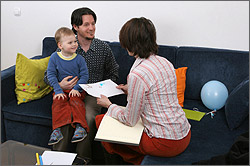 We are a team of experienced, independent social workers who can undertake a variety of tasks to help progress cases. All practitioners, including our Professional Assistants, are fully checked and approved and all our Social Workers are registered as independent workers with GSCC. We have a vast range of skills and experience within the team to enable us to offer organisations innovative and effective ways of working to meet their statutory, strategic and developmental needs.
We are not a recruitment/employment agency. We only work through commissioning as a consultancy and do not provide locums.
'Using A-Z is like having my own crisis team'
(Team Manager, Peterborough Social Services)

What we do
We carry out defined pieces of work in the areas of childcare and child protection (including family law), mental health and adult care. For a complete list of the services we offer click here. We are dedicated to good practice, providing quality services delivered on time. High standards are maintained through our Quality Assurance procedures and Equal Opportunities Promise. We are committed to the values and principles which underpin and promote anti oppressive and anti discriminatory practice. We also comply with confidentiality standards and protocols of commissioning agencies.
'A refreshing positive attitude'
(Service Manager, Peterborough Social Services)
To see the benefits of using our services click here.